We Deliver More than Beer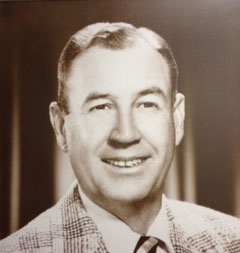 Thank you for your interest in Alford Distributing. Alford Distributing is a family owned and operated business, started by Irene and Aaron Alford in 1947. The family business started in downtown El Centro at 441 State Street. In the 1980s the company was relocated to East Main Street in El Centro. To accommodate growth, Alford Distributing built a state of the art facility located in Crown Business Center, Imperial, California.
We are the exclusive distributor of many great brands in the Imperial County.  Please see our Partners page for details.
Alford Distributing operates as part of a "three-tier" system. Anheuser-Busch produces the product, Alford purchases the product and distributes to A.B.C. (Alcohol Beverage Control) licensed accounts throughout the Imperial Valley.
Alford Distributing employs over 40 employees and is proud of the fact we offer excellent benefits, including 401k plan, and full medical coverage. Many of the Alford Distributing team members have worked with the company for over twenty years.
We are proud to be a sponsor of many of the major special events in the Imperial Valley, helping foster the quality of life and spirit of community in the Imperial Valley.
Our Mission:
To be the first choice of each consumer in every account.
Educate our team to embrace change so they can turn challenges into opportunity.
Add value to our products and services each time we meet.
Maintain a seamless selling organization that will allow us to serve our retailers as one TEAM.
Our Vision:
Provide the best products, service, and relationships to our retailers, so they can provide their customers with the freshest and highest quality beverages available.
Our Values:
Dedicate ourselves to each other; our team, our customers, and our communities, to achieve maximum performance.
Offer a safe, productive and rewarding workplace.
Maintain our commitment to quality in everything we do.
Ensure the responsible consumption of our products.
Network our resources and tools to streamline our communications.
Always remember: "Making Friends is our Business".
Trust, Respect, and Integrity in all of our relationships.
Each employee is responsible for contributing to the company's success, so we can DOMINATE.
Thank you for taking the time to allow me to introduce myself and my family-owned business, our motto is, "Making Friends is Our Business", we appreciate the opportunity to meet you, and look forward to your friendship.